history & Archaeology
---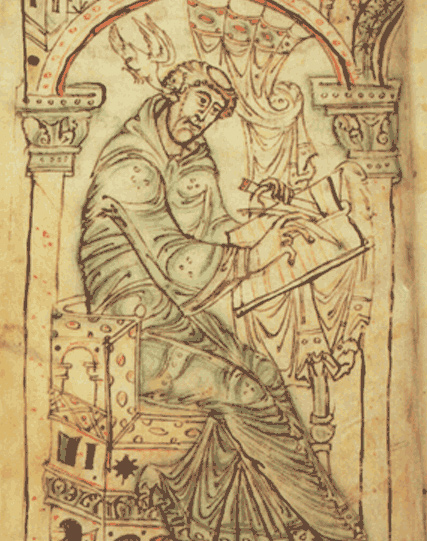 The Anglo-Saxon drawing depicts Gregory writing while the Holy Spirit in the form of a dove flies down to whisper inspiration in his ear.
ST GREGORY'S MINSTER commemorates and celebrates its Patron, Gregory the Great (born in Rome about 540; died 12th March 604), on the Sunday nearest his Feast Day (September 3rd in the Calendar of the Latin Church). It was Gregory who determined to send an evangelising mission to the still heathen English people, and thus came to be honoured as Apostle of the English. The mission, led by Augustinus (later venerated as St Augustine of Canterbury), landed in Kent in 597 and successfully laid the foundations of the Church of the English. A number of the earliest churches subsequently built in England were dedicated to Gregory; and in fact the inscription on the Anglo-Saxon sundial may imply that the church in Kirkdale, bought as a ruin and rebuilt by Orm Gamalson upon the ancient foundations which still underlie it, was already known as Sanctus Gregorius Minster - which dedication Orm then retained.
By Orm's time Gregory as Apostle of the English, and the distinguished writings for which he was named a Doctor of the Church, had long figured prominently in the definition of English national identity. As early as 713 a monk of Whitby Abbey wrote a short biography of Gregory which survives today as the oldest known 'Life' of Rome's bishop and England's apostle. The ancient Whitby manuscript can be seen online here (Incipit Liber Beati et Laudabilis Uiri Gregorii Pape).
In 731 Bede the Venerable completed his Ecclesiastical History of the English People (based in part upon the Whitby tradition) which included what was to become the definitive account of Gregory's mission to England. From then on, the concept of the tribal English as 'a nation' was established, with the Church of the English as its co-ordinating institution.
In the last quarter of the 9th century, when England was being ravaged by the Danish vikings, King Alfred of Wessex translated into English some of Gregory's writings as ranking among those works which it was most needful for everybody to know; and he required that all his bishops should study and teach onwards the wisdom of Gregory's Pastoral Care.
And in Orm's own generation the great English homilist Ælfric included in his cycle of English-language homilies for the whole of the Church's year one which pays homage to Gregory as Apostle of the English and inspired mouthpiece of the Holy Spirit.
It may be that, in perpetuating the dedication of Kirkdale's ancient Minster to Gregory the Great, Orm was deliberately reasserting the continuity of the Church of the English after the hiatus of the Danish colonisation of Yorkshire over the 10th century.
Such is the "cloud of witnesses" surrounding whoever steps into St Gregory's Minster, whether to admire, or to meditate, to pray or to worship.