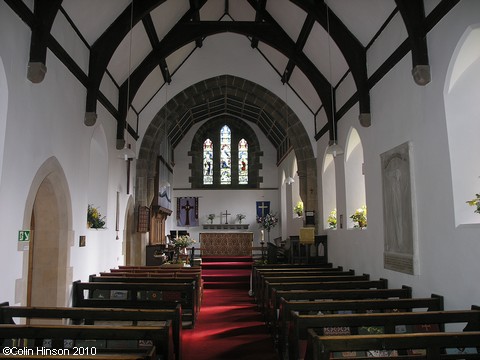 SERVICES FOR APRIL AND MAY
3 APRIL

9.30am All age worship Rev'd S Binks Rev'd Burnside

10 APRIL

AT WOMBLETON

15 APRIL

GOOD FRIDAY

9.30 DEVOTIONAL SERVICE REV'D S BINKS REV'D M BURNSIDE

17 APRIL

EASTER SUNDAY

9.30 EASTER EUCHARIST REV'D S BINKS REV'D M BURNSIDE

24 APRIL

9.30 MORNING PRAISE

1 MAY

9.30 ALL AGE WORSHIP Rev'd M Burnside

8 MAY

9.30 MORNING PRAISE

15 MAY

9.30 HOLY COMMUNION Rev'd B PAGE

22 MAY

9.30 MORNING PRAISE

29 MAY

9.30 EUCHARIST REV'D S BINKS
St Hilda's, Beadlam, Nawton
St Hilda's is the daughter church of St Gregory's Minster in the church parish of Kirkdale, which comprises six civil parishes (Beadlam, Nawton, Skiplam, Wombleton, Welburn and Muscoates). This church was built in 1882 – 83 to meet the needs of the large proportion of parishioners who lived in the expanding villages on the A170. Kirkdale Parish has been a Local Ecumenical Partnership of Anglicans and Methodists for several years.
At St Hilda's all services are shared Anglican/Methodist and the differences between the denominations has ceased to be of significance to the congregation and this has led to a flourishing of a rich variety of worship styles. As there are two churches, the parish is in the lovely position of being able to offer a choice of service - traditional choral Anglican Book of Common Prayer worship at St Gregory's and less formal proceedings at St Hilda's where some services will be held by Methodist Local Preachers, some by Readers and some by the Vicar or the Methodist Minister. There are also occasional shared services in Wombleton Village Hall - a Palm Sunday Procession Service, Remembrance Sunday and a Christmas Carol Service. A prayer group, a home group, lent courses, and Messy Church are also run ecumenically.A monthly Communion Service is held in Omega Barn residential home in the village.
St Hilda's is licensed for both denominations. The two churches are cared for by a Joint Church Council (J.C.C.) with representatives from both Anglican and Methodist members. The J.C.C. is chaired alternatively by the Superintendent Minister and the Vicar, which successfully draws together the different traditions.
In 2000 a new extension was built to form a meeting and social gathering room and this is known as the Millennium Room. The main body of the church is light and airy with a 2- manual organ and has some stained glass saved from the redundant chapels in Nawton and Wombleton to mark the link with our Methodist heritage. There are also some memorial plaques which are quite interesting. The church clock was installed to mark Queen Victoria's Golden Jubilee in 1887.
We are a Fair Trade Church.